Vehicle Fires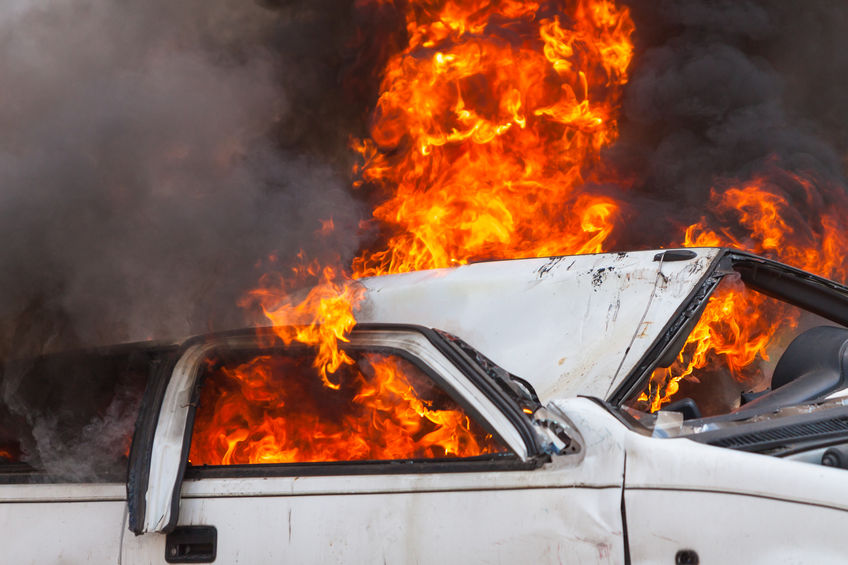 NEW JERSEY CAR FIRE ACCIDENT LAWYERS
Burns from Motor Vehicle Accidents
More people die every year in vehicle fires than in structure fires and there are thousands of serious burn injuries resulting from car
accidents.  In fact, 20% of fires in this country involve a motor vehicle and more than 10% of fire deaths results from a car fire.  Car accidents are violent events that can cause ruptures of the fuel tank and fuel line.  As a result, it is not uncommon for a fire to occur after vehicle crash.
Car crash fires can also occur due to design defects in the automobile itself such as ill-positioned gas tanks and unshielded fuel systems.  A fuel-fed fire can spread quickly and accelerated by other flammable vehicle parts and  liquids which can result in catastrophic burn injuries to vehicle occupants and those trying to rescue them.  In addition, occupants can also suffer severe burns from the escaping gas of airbags.  Airbag burns typically affect the the upper portion of the body and are most frequently seen on the face, neck and chest.  Burn injuries caused by motor vehicle accident fires are likely to be thermal burns or chemical burns.
New Jersey car, truck and vehicle fires typically involve passenger vehicles such as cars, buses, and pick-up trucks, trains,  boats, aircraft,  recreational vehicles,  and off-road vehicles or ATV's.
If you or a loved one has suffered an injury in a vehicle fire, then you may have legal recourse against the person or entity responsible. Contact a New Jersey Vehicle Fire Injury Attorney today.  Mr. Mendelsohn will review your injury claim for free, and represent you on a contingent fee basis, which means you don't have to pay any attorney fees unless you recover on your claim. We'll fight to ensure that you and your family are fully compensated.